Fireside with HighGround's 2020 Tal Award Recipient
April 21, 2021 - Tal Roberts served HighGround Advisors from 1969 – 1997. He embodied our core values: he put the client first and was servant-hearted, he acted with integrity and promoted innovation, he was a visionary and led with professional excellence. To acknowledge dedicated and thoughtful employees like Tal, HighGround established "The Tal," an employee of the year award, in 2020.
At our all-staff vision meeting in February 2020, Kellie Morrison was named as our first Tal Award recipient. Tal himself was in attendance to present the award to Kellie and to speak to our staff. Kellie has been with HighGround over 30 years and currently serves as Senior Director of Client Investment Solutions for HighGround Advisors and as Vice President of HighGround Trust Company.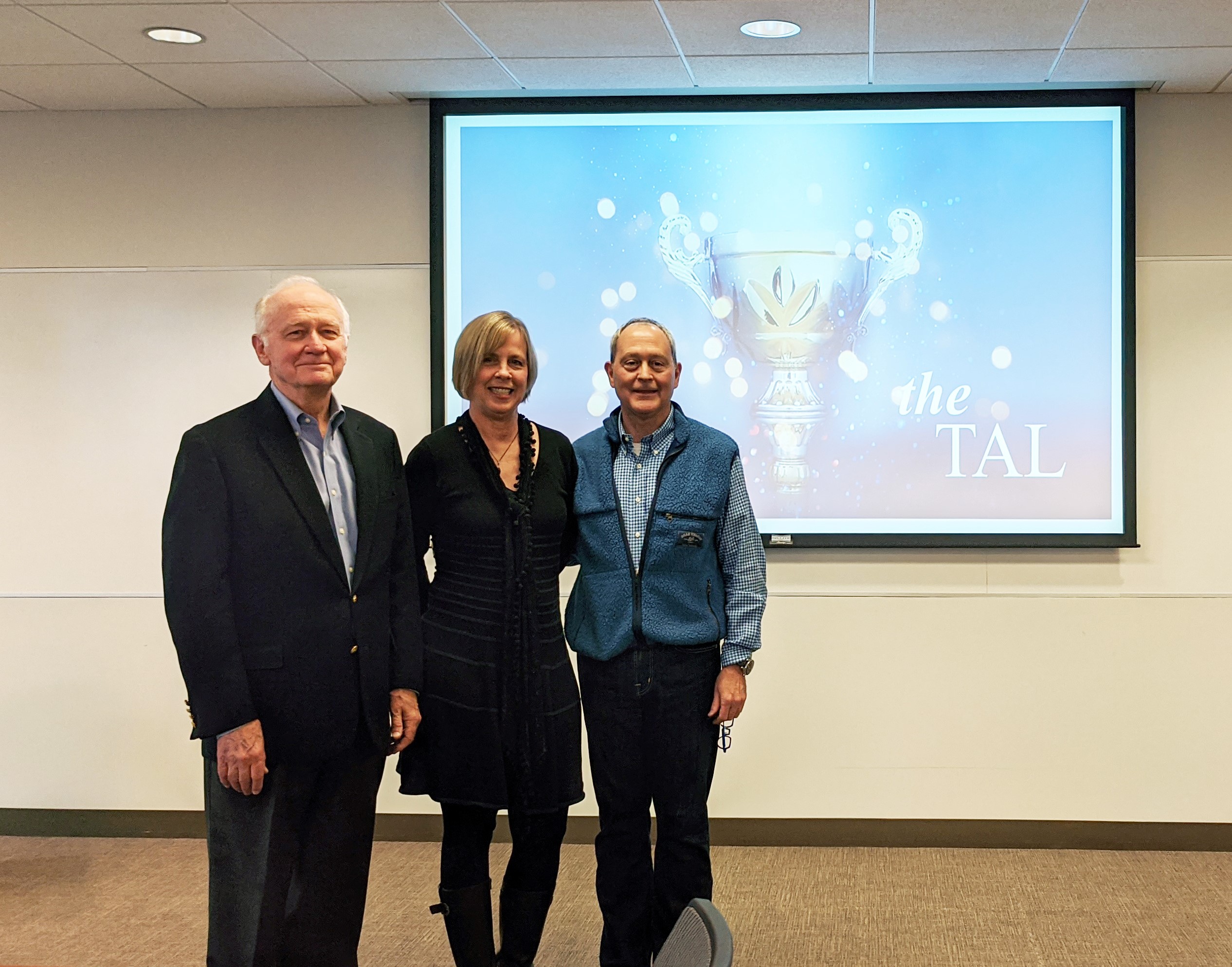 (pictured above from left to right: Tal Roberts, Kellie Morrison, Jeff Smith)
In our interview with Kellie that follows, we celebrate her and her contributions to HighGround's mission.
What role do you play in the advancement of HighGround's mission?
The majority of what I do is communicate to prospects and client partners what HighGround does, how our investment process works. I work with prospective client partners to understand their needs and to create an investment solution that helps them meet their objectives. I meet with client partners in the initial stage of setting up an investment strategy and to provide portfolio performance updates. Whether I'm meeting with an individual or an organization's board or investment committee, I'm always seeking to convey that our mission is to be a supporter of their mission. We're passionate about that.
What is your background?
I got my undergrad at Baylor University and was a vet technician for a year after graduating. I thought about going to vet school but decided to get an MBA at Baylor instead. As I was nearing graduation from the MBA program, Roddy Cummins, HighGround's CIO at that time, was conducting interviews at the placement office, and I met him there. That's how I got connected to HighGround. I didn't know investments would be the avenue I'd take, but I was a math major for a little while, so I've always been very analytical. The Investment Analyst job description interested me. I remember Roddy asking me what my favorite class was, and I told him Quantitative Methods. I didn't set out to have an investment career, but it evolved into that.
Why did you choose HighGround?
It felt like a God thing, where He puts you right were you need to be. I remember talking to my grandmother about the job and she felt that way too. I was really excited about it. The interviews, the culture, the people, the fit of the job itself – it all seemed right. I liked the analytical aspect of the role and the investment part intrigued me. I felt I could apply my skillset and continue to grow and learn. And I loved the mission aspect of everything HighGround does, that we serve those who are impacting lives.
How has your role developed from when you first started at HighGround?
I was hired out of the MBA program at Baylor and joined HighGround in 1989. My initial role at HighGround was Investment Analyst. When I was hired, I was the youngest person on staff, so I also became the computer person. I oversaw our IT hardware and network. Not everybody on staff had a personal computer then; some had mainframe terminals. In 1997, I became a Chartered Financial Analyst (CFA) charterholder and my role began to grow to include more of the outward-facing meetings. Because we're a smaller organization, my responsibilities have been broad, so I get to speak to client partners about investment funds as well as work on the investment process and strategy of HighGround's investment platform. Additionally, as the HighGround Trust Company was created in 1996, I developed the investment strategies related to our trusts and gift annuities. I'm an officer of the HighGround Trust Company and still oversee that today.
What about your work do you enjoy the most?
I enjoy connecting with others and communicating what can be a complex topic to a range of audiences, including some who don't have a deep understanding of the investment world. I like when it "clicks" for them and they begin to see how what we're doing can help them accomplish their mission.
Tell us about a favorite memory or story from your time at HighGround.
A donor came to speak to us years ago at our weekly staff meeting. She was a single woman, a schoolteacher. She wasn't a rich woman but had saved all her life, and she had worked with us to establish a charitable gift. She was short and slight, wearing a suit. I still remember her shoes. After she spoke, she walked around the office to meet team members. She came into my office, looked around and said, "Oh my! You are rich!" I asked what she meant, and as she pointed to framed photos of my kids and husband, she replied, "Rich in family." I just feel she was the epitome of the type of people we get to work with, the poster child of the best aspects of the job. We work with philanthropic individuals, and what they're trying to accomplish in the world through their charity becomes what we're trying to accomplish.
What is one of your most rewarding achievements or moments while at HighGround
Receiving the Tal Award. It took me off guard but felt like a culmination of my whole career. I remember interviewing with Tal, and his spirit and passion for what he did came through in the interview. He is a really special person. I got to work with him at HighGround for about eight years. Because of who Tal is and how he embodies our core values, it was especially meaningful that he was at our vision meeting to speak and to present me with the award.
Which of the HighGround core values resonates most deeply with you and why?
Servant-hearted. An investment professional can go anywhere and make good money. But I've chosen to focus my career on something that has meaning and purpose underlying it.
Who have your mentors been?
Tal Roberts – former HighGround COO
Roddy Cummins – former HighGround CIO
Joe Wright – current HighGround CIO
Outside of your work, what gives you the greatest sense of accomplishment?
Family. Both of my kids – what great people they are, the people they've married, the families they're building.
Outside of work, how do you like to spend your time?
I'm in my sixth and final year of serving on the board of Equest. I was treasurer for two years. Their mission is important to me, and Equest hits the sweet spot of my interests. I'm a horse lover and what Equest can do with horses for therapy, both mentally and physically, is incredible. Aside from Equest, I spend time at church, with my family, and traveling to our lakehouse or to Colorado.