Fireside with Carson Hays
August 29, 2023 - HighGround was pleased to have four interns with us this summer. We recently sat down, fireside, to learn more about one of our Investments interns, Carson Hays, and his experience working at HighGround.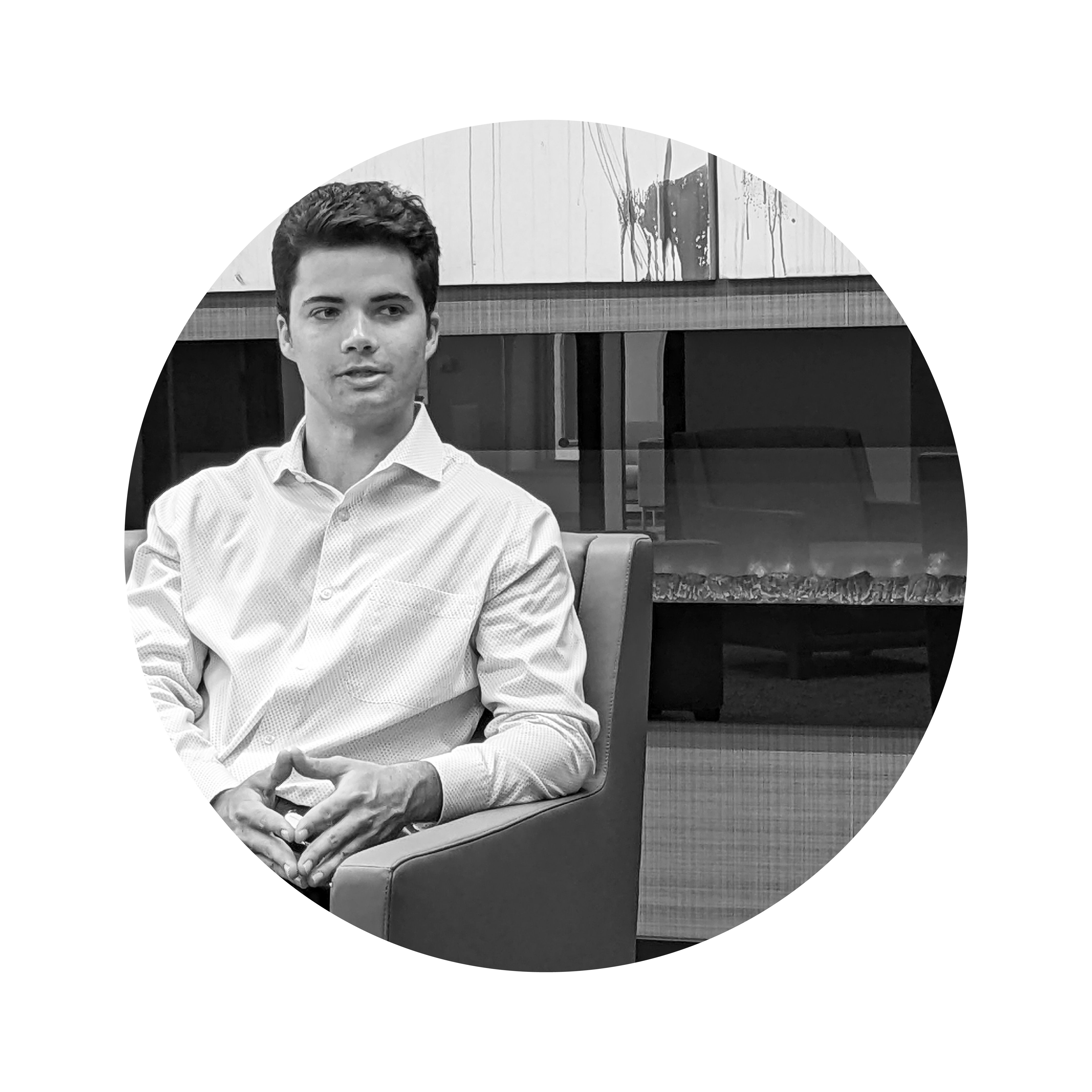 Where are you from? What school do you attend, and what are you studying?
I'm from Miami, Florida. I was born in San Francisco and lived there until I was in second grade, but my home is Miami. I've been in Dallas since I came to Southern Methodist University. I'm studying finance. I was lucky to get into the business school and start taking business classes early, which helped me realize what I wanted to major in. Finance has been a good fit.
What brought you to HighGround?
I looked up a number of private equity and investment management firms offering Dallas internships and began applying through Handshake and LinkedIn. I was talking to my dad, who works in private equity, about firms on my list, and HighGround was familiar to him because he had met Philip Godfrey [HighGround Director of Private Markets] before. With that connection, I sent an email to Philip. Philip brought me in to tour the office and meet some team members. In March, I came in for a formal interview and got the job.
That HighGround was in Dallas and faith-based differentiated it from other firms. At SMU, a lot of students are focused on the big financial institutions, but HighGround seemed like a place that was more unique. It was cool to see HighGround's exposure to all the asset classes. An internship in asset management interested me because if I wasn't sure what I want to do after college, it would expose me to a lot and would be an experience that would help me find out where I want to be.
What all did you do in your time here?
I'm currently working on a rebalancing project, looking at our portfolio and the weight of equities versus bonds within the portfolio and considering how we want to have that balanced. We're looking at trends over the past 20 years, checking benchmarks, running scenarios to see what changes rebalancing brings.
We worked with Philip on a peer group analysis of European private credit firms. We were looking at internal rates of return, where the fund is, whether the fund is realized or currently fundraising, the makeup of their teams, where they have offices and support. It was pretty high-level but a good way for Philip to get us to start thinking about what we'd need to look for when we go through the materials potential managers send us. It was really helpful.
We did a quarterly report with Peter [Case, HighGround Director of Fixed Income and Reporting], where we looked at our various holdings in public equity, comparing universe statistics and peer group statistics to a benchmark.
With Steve [Thieme, HighGround Director of Public Markets], we pulled sets of managers of other endowment foundations and pension funds to look at similarities they share with our managers. This was an exercise in due diligence and manager research.
We worked with Michael [Duncan, HighGround Investment Analyst] by going on Bloomberg to pull information on treasury bonds we've purchased. HighGround's operations team purchases the bonds and sends the investment team a confirmation. Then we go to Bloomberg to look at metrics, what the bonds are worth, the amortization schedule, and general descriptions of the bonds and their history, then we send all that information back to operations. It was actually helpful to HighGround and felt like a real contribution to the organization.
What have you learned in your time here? What's your biggest takeaway?
That you're always learning. Michael is new and so knowledgeable, but he's learning so much from Carol [Kilman, HighGround Senior Director of Investment Analysis and Due Diligence] and others. I came into this having taken classes but not sure if I know enough. The reality is when you meet with managers, there are phrases that might as well not be English. The first week of my internship, we met with a venture capital firm, and I wasn't sure what was going on the whole time. But after, Steve said to me, "I'm sure that didn't make sense." And that was helpful. The general theme throughout the summer has been that you can't be afraid to ask questions or say when you don't understand. But then when you do begin to understand, it's really cool. Three weeks ago, I didn't understand things that I understand now.
We're meeting with all these people with different focuses: tech, sports, venture capital, early-stage growth, buyouts. They all have different interests, and you get to see what drives them. You're learning from them, and they're learning from you. I don't need to know everything. I need to be prepared and pay attention, but I also have an expert team I can discuss things with. Some things I've learned in class have directly helped in this internship, but, for the most part, you're learning along the way.
What is a favorite moment from your time at HighGround?
My fellow investment intern, David Wulfert, and I did research on fund managers of endowment and pension funds, and when we went over our findings with Steve, he was really supportive about the work we'd done, saying it was super helpful to the team. That was a good feeling. The investment team was always very encouraging and focused on expressing their gratitude and their willingness to help us. We're interns, so obviously a lot of what we're doing is for us to learn, but when we were able to do something legitimately helpful that takes pressure off the team, they were really great to show appreciation.
Besides that, grabbing lunch and sitting with various people in the HighGround café. Everyone is very welcoming. Birthday celebrations, the surprise wedding shower for a team member, and the firm-wide bowling event were all fun. Lunch with the investment team and going to the Texas [such and such meeting] with Aries Capital were also highlights.

We focus on strengths at HighGround. What are your top 5 CliftonStrengths?
Mine are Connectedness, Developer, Adaptability, Belief, Communication.
We met with HighGround's Strengths consultant, Heidi Convery, and I thought it was really interesting that David and I didn't have any overlap in our top 5 strengths. I've seen Connectedness in my interactions with the team. The first couple of weeks I was comfortable, but now I'm even more able to walk up to whomever and ask questions. Connectedness has helped me find my fit with the team. I've seen Developer in how I interact with David. He's a good motivator, and when he has questions, I'm able to encourage him. I can see how Developer was at play for many years when I worked with kids at summer camp, and now I'm seeing it here as well.
Which of the HGA core values resonates most deeply with you and why?
Innovation and Servant-Hearted go together for me. It's pretty rare to see servant-hearted in the values of a business. That, in and of itself, is innovative. We are doing good work and meeting with high-level managers, but we're also a nonprofit and doing this work for churches and nonprofits. That's a cool thing to see and gives me hope. There are driven and smart people here. Everyone here could work somewhere else and make more money, but it's the doing hard work and doing it well and doing it for the reasons we do that resonate with me. There's a greater purpose behind the work. We're making money for nonprofits, churches, and foundations, and that gives you that extra push of motivation.
How do you like to spend your time? What are your hobbies or passions?
I've been able to pinpoint this more doing the internship because I don't have a ton of free time. Golfing, for sure, on the weekends. I'm happy to have friends who love golf and want to play just as much as I do. I enjoy sports, in general: going to the gym, basketball, ultimate frisbee. Hanging out with friends. Going to church every Sunday and Porch on occasion at Watermark Church. I've started cooking more, and I kind of enjoy it. I've gone on runs for the first time ever, even though it's the worst time to be getting into outdoor running.
What does the future hold for you?
I don't know what it will hold, but during my time here I've loved every second and have learned a lot and have been able to hone in more on what I want to do. Asset management is high on that list. Private equity and growth equity, specifically, interest me a lot. I would like to be here in Dallas. I think an internship is successful if you learn you'd actually want to work at the organization, and I'd welcome an opportunity to work at HighGround.
It's cliché, but I want to thank everyone here for welcoming me, and the other interns. It's been special. It's not surprising, given the values of the company, but it's still cool to see that everyone is so thoughtful, nice, and supportive. It's been a huge blessing throughout the summer, and I don't take it for granted.