Fireside with HighGround's 2021 Tal Award Recipient
May 11, 2021 - To acknowledge dedicated and thoughtful employees who embody our core values, HighGround established the Tal Award, named for former HighGround COO Tal Roberts. The award recipient is selected by HighGround peers through a nomination process.
At our virtual, all-staff vision meeting last February, Lacy Cagle was named as our 2021 Tal Award recipient. Lacy has served as HighGround's Marketing, Communications & Staff Experience Manager for the past six years. We recently sat down, fireside, to learn more about her story and to celebrate how effectively she has communicated HighGround's story and mission in her time with us.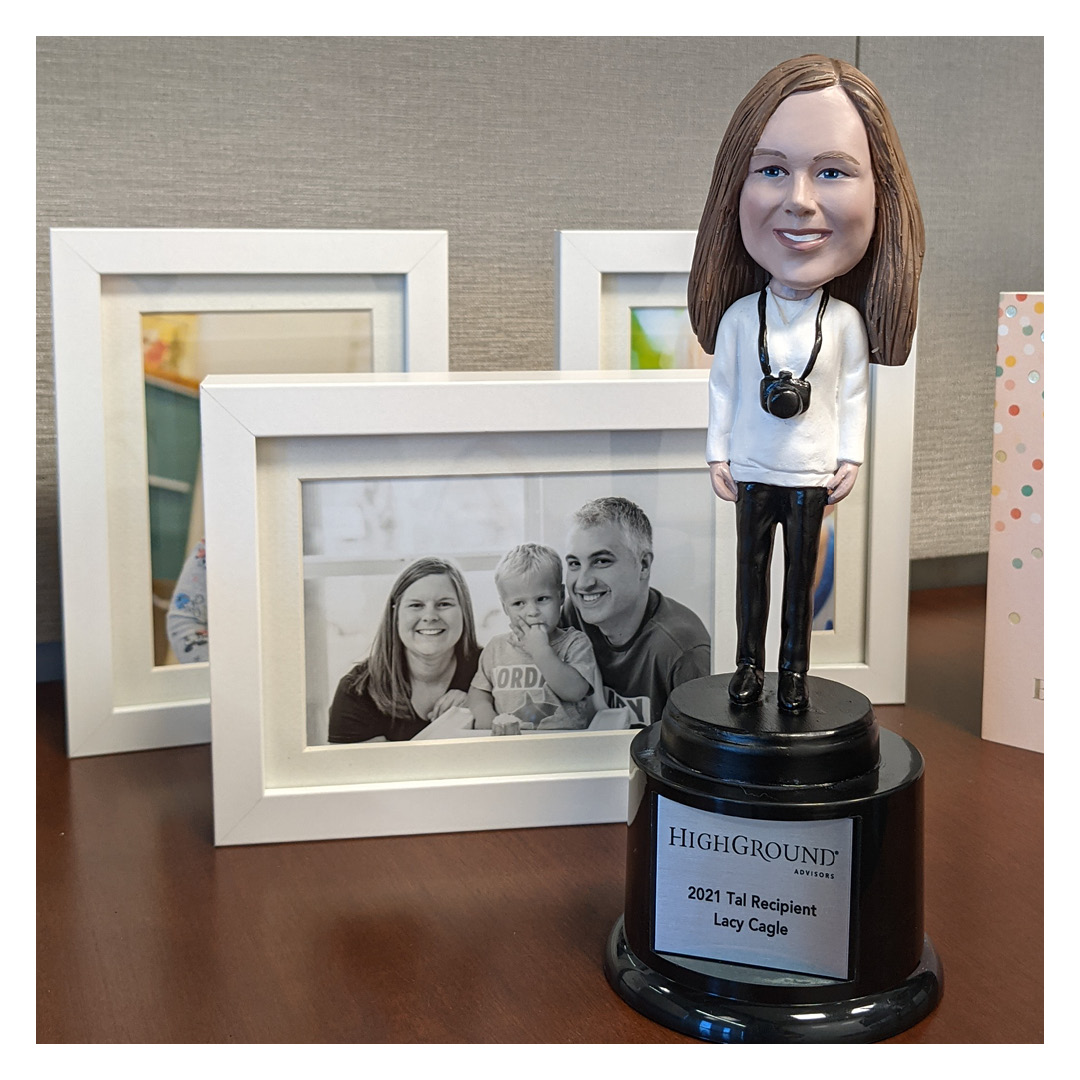 What role do you play in the advancement of HighGround's mission?
As the Marketing, Communications & Staff Experience Manager, I work directly with our Senior Vice President/Chief Strategy Officer and the Client Solutions team. My focus is to create materials and campaigns that cultivate client retention and development. I oversee and direct all marketing and communications strategies and tactics to present HighGround's authentic story.
Additionally, I work to promote, foster and nurture a dynamic culture at HighGround built around the needs of clients and prospective clients.
I strive towards being a:
Cultivator – I cultivate HighGround's voice.
Storyteller – I tell HighGround's story.
Brand Ambassador – I set brand standards and ensure adherence to them.
Creator – I establish materials needed to tell our story.
Communicator – I communicate HighGround's brand message both internally and externally.
Culture Promoter – I create opportunities for the HighGround team to connect with our core values and grow together to more effectively serve our clients.
What is your professional background?
Directly after graduating from Texas Tech University with a degree in architecture, I went to work for an architect but almost immediately knew that I wouldn't be there long-term. Don't get me wrong, I love architecture, but I didn't want to start at the bottom working on redlines. For those who don't know, redlines are architectural drawings that have been printed, reviewed and marked up with errors, changes, and revisions. Naïve as it may be, I didn't want to work my way up; I wanted to start my career as a designer. So, I left one architecture firm for another. But this time I was hired to work in the marketing department, designing promotional materials. And often, I was pulled into architecture design competitions since I understood both architectural and graphic design. It was the best of both worlds.
But, I also wanted my work to mean something. For that reason, I eventually left the for-profit world for a nonprofit in the arts. Nonprofits can be the most rewarding places to work, but they can also be the most demanding. There are so many deserving voices/nonprofits vying for their place.
What brought you to HighGround?
A mutual friend who worked with HighGround and my previous place of employment knew that I was interested in exploring new opportunities. He kept an ear out for me and discovered that HighGround was looking for a marketing professional to help lead their brand perception/rebranding initiative. I believe he told Ben Curry, HighGround COO, that I was a "beast" and that they should hire me. I'm not exactly sure how I should take being referred to as a beast, but I choose to believe it was a compliment.
How has your role developed from when you first started at HighGround?
My relationship with HighGround started with me putting a lot of trust in Ben Curry. Because my position didn't exist before I was brought on board, I really took a leap of faith, knowing that the position was new and that it would be a very fluid process in the beginning.
I was hired in 2015 by a new HighGround leadership team that wanted to gain a better understanding of the perception and reputation of their brand in the marketplace and to possibly rebrand themselves. What an opportunity! I had worked on other rebranding initiatives but none quite like this.
In a sense, I established the marketing department 6 years ago. Since then, we have rebranded a 90-year-old organization, enhanced our brand name recognition, established our brand promise, moved offices and fostered an internal culture shift. And while these are substantial accomplishments, there is still so much left to achieve.
Today, our brand materials are often recognized "out in the wild." We've been asked who creates our brand materials, and I am proud to say that all of our marketing materials are developed in-house.
What about your work do you enjoy the most?
New challenges. Doing things I've never done before. Tackling the unknown is invigorating.
Tell us about a favorite memory or story from your time at HighGround.
Maybe not the fondest memory but I'll never forget wearing a red blazer to my hiring interview with two Baylor Bears. I felt lucky that Colleen Sims, HighGround Trust Company VP and fellow Red Raider, joined in the conversation. And I cannot recall his exact words, but I believe CEO Jeff Smith acknowledged my bravery at the beginning of our interview.
Ultimately though, I took my leap of faith to come to HighGround because of the people. And often, I hear others cite that reason as to why they chose HighGround. So, the people at HighGround are my favorite memory. I enjoy them. I enjoy their contributions. I live for the in-depth strategy sessions where we don't always agree. And, I love the moments where we can be silly and laugh at ourselves.
What is one of your most rewarding achievements or moments while at HighGround
Receiving this award. Like the majority (all?) of HighGrounders, I'm not driven by awards or accolades, but I'd be lying if I said that I didn't appreciate them. And is there a higher honor than to be honored by your peers?
Which of the HGA core values resonates most deeply with you and why?
My first response would be servant-hearted, but I believe that is what all HighGrounders would say. For most of us, it is the reason why we come to work here. We believe in the work we do, in serving the nonprofits that are truly transforming lives. However, if I think more about my role, I would say innovation. In marketing, we are always looking for ways to innovate. To think beyond what we know, turn things upside down and ignore fear (within reason).
How do you like to spend your time? What are your hobbies or passions?
To create, explore, read, listen and learn.
I love creating.
I love being adventurous outdoors.
I love reading. Over the last few years, I stopped making time to read, but I recently fell back into the habit and I am in love. (Oh, and as a designer, I do judge a book by its cover. A bad cover won't keep me from buying it, but I'll buy a book that I wasn't interested in just because of the cover.)
I love lists. I seriously love lists. I am the person who rewrites lists if they get too messy. I'll also add things to lists just to cross them off. I think I may have a problem.
I love music and podcasts.
I love live performances and movies.
Who have been the greatest influences on your personal aesthetic?
Those who paved the way, like Ray Eames and Saul Bass, and the contemporaries I follow today, like Jessica Walsh, Dana Tanamachi, Erik Marinovich, Timothy Goodman, Jessica Hische, Jade Purple Brown (the list goes on and on).
I can find inspiration in anything or anyone. I'm often snapping photos, sending myself text messages and taking screenshots to document my muses/inspirations.
What are your favorite quotes?
"When you make something no one hates, no one loves it." – Tibor Kalman
"If they don't give you a seat at the table, bring a folding chair." – Shirley Chisholm
Outside of your work, what gives you the greatest sense of accomplishment?
Besides my family…
I love dedicating myself to something and seeing the results.