Fireside with Intern David Wulfert
August 17, 2023 - HighGround was pleased to have four interns with us this summer. We recently sat down, fireside, to learn more about one of our Investment interns, David Wulfert, and his experience working at HighGround.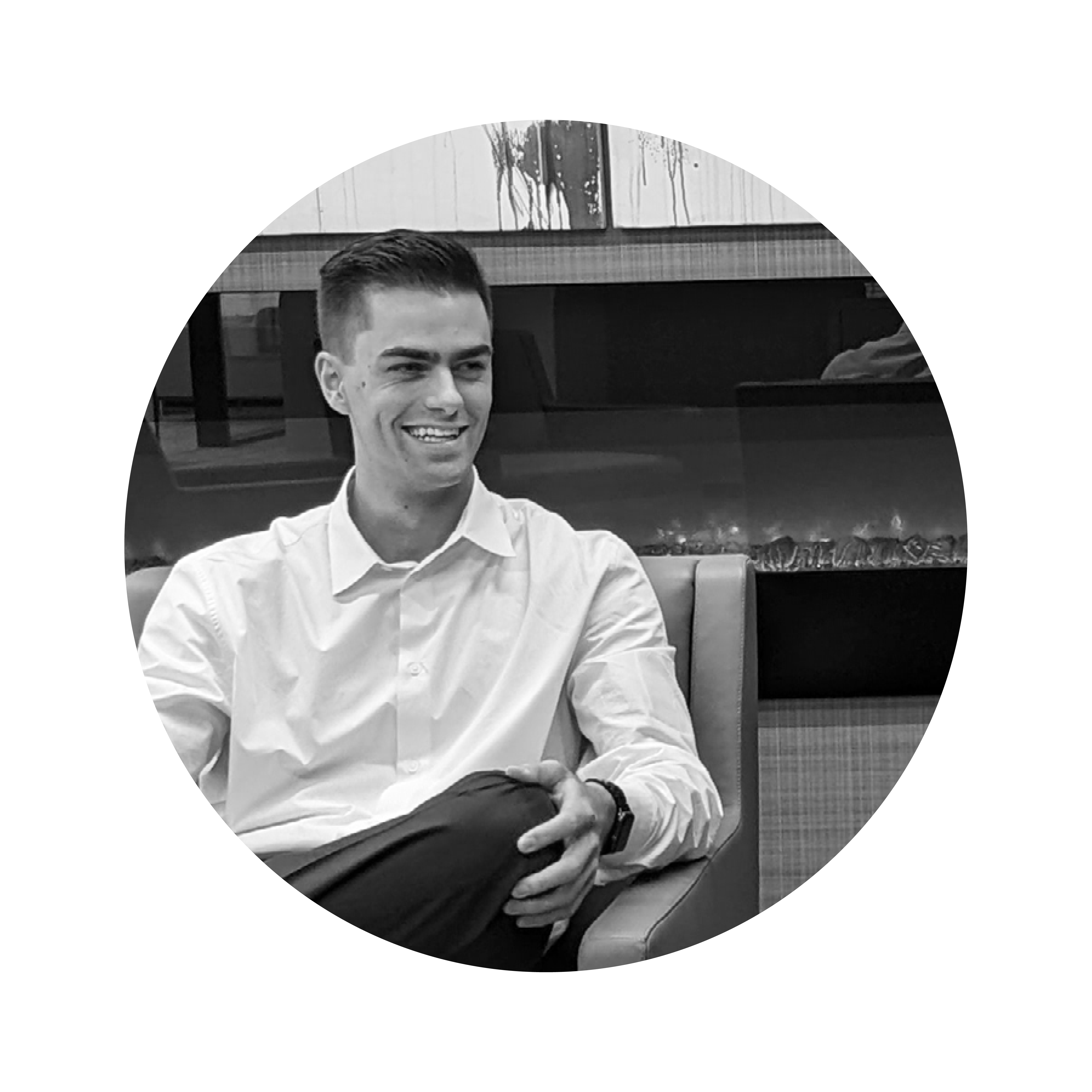 Where are you from? What school do you attend, and what are you studying?
Originally, I'm from Farmington, New Mexico. I moved to Texas 3 years ago. I attend Dallas Baptist University, and I'm currently a senior, studying finance. I'll be graduating this December.
What brought you to HighGround?
I had heard of HighGround through my friend and fellow DBU student, Joseph Isbell, who interned at HighGround last summer. I actually met Jordan [Lovelady, HighGround Client Solutions Strategist] and Carol [Nichols, HighGround HR Director] at the DBU career fair. I was looking for a summer internship in finance and started talking to them. I got to hear a little about HighGround's mission and goals, and they aligned with mine. I figured I'd apply to learn more about the internship and what HighGround does, then I interviewed, and the next thing I knew I had an internship here. The primary draw, for me, was the mission-based organization and getting to feel like you're making a difference in the workplace - not just showing up every day, clocking in and clocking out.
What all did you do in your time here?
I've done a lot. The investment team put us on three main projects. We had a portfolio rebalancing project, where the objective was to look at market trending periods and run daily, monthly, quarterly, and banded rebalancing scenarios within these trending periods. Another project was a European direct lending peer group analysis. And our main project was to review all our funds and put together a quarterly checklist, compiling data into a professional template using the Factset SPAR function. We checked returns, how funds were performing, basing it against benchmark and peers. In addition, I helped with various tasks, including board meeting prep, and sat in on manager meetings.
What have you learned in your time here? What's your biggest takeaway?
My biggest takeway from the summer is professional development. I've learned a lot of good skills and have worked with software, including Bloomberg Terminal, Dynamo, and FactSet. Expanding my knowledge of Excel has been super fruitful. Especially with the way everything is going toward the greater use of technology, if you can show those skills, it puts you ahead of someone who doesn't have those technical skills.
My other takeaway is what I learned about markets as a whole and, specifically, about hedge funds, private credit, European direct lending, and the importance of rebalancing. Steve [Thieme, HighGround Director of Public Markets] and Philip [Godfrey, HighGround Director of Private Markets] are knowledgeable experts on these investment strategies, and getting to learn from them has been super fruitful.
What is a favorite moment from your time at HighGround?
My favorite moment was the first week here and going to lunch with the whole investment team, getting to know them and them getting to know us. The firm-wide bowling event was also really fun.
The most rewarding moment was getting to present at our firm-wide weekly meeting what we learned over the summer and what projects we worked on. At most places, interns don't get put on projects that contribute much to an organization; they're doing more learning projects. I feel like Helge [Rokenes, HighGround CIO] and the rest of the team have structured the internship to make us feel like we're actually providing valuable resources to the team and working on beneficial projects that will help better the team. That's been a highlight for sure.

We focus on strengths at HighGround. What are your top 5 CliftonStrengths?
Mine are Significance, Command, Focus, Achiever, Self-assurance.
I learned Significance is a rare one to have at #1. I'd never taken the Strengths assessment before and getting to learn a bit about myself was fasinating. We got to sit down with HighGround's Strengths consultant, Heidi Convery, to talk more in-depth about what each strength means and how to utilize them to best fit your work. One thing that stood out was how my strengths work within the team and how each team needs somebody with different strengths in order to work as a unified body. I have a deep desire to make an impact wherever I work, and I desire to work for the betterment of a company, and for society as a whole, so what drives me is knowing my work is making a difference and is valuable. I want to wake up and want to come to the office, wherever I am.
It was also super unique that Heidi gave us some insight in how my strengths and the strengths of my fellow investment intern, Carson Hays, work together to balance out the team. I can be more like, "This is the task, and I won't stop until it's done." Carson can be more structured and relational. Knowing our strengths helps us work well together. It's great that HighGround hires a Strengths coach and that employees have access to the assessment and her guidance. It shows that HighGround cares.
Which of the HGA core values resonates most deeply with you and why?
I would say my top two would be Visionary and Servant-Hearted. You can't do one without the other. If you don't have a vision for how you want to serve and who you want to serve, then you can't be as servant-hearted and intentional.
I like that those are core values of HighGround's. As Christians, we're called to be servants. One of my favorite Bible verses is the Great Commission, which says, "Go and make disciples of all nations, baptizing them in the name of the Father, the Son, and the Holy Spirit." That being my calling in life, getting to intern at an organization that has Servant-Hearted as one of their values is super unique.
I think I'm always looking for something new to work on or develop, whether a skill or way to make something better. I've enjoyed getting to work at a place that does the same and is seeking to make the world a better place.
How do you like to spend your time? What are your hobbies or passions?
Fitness and nutrition, going to the gym, I geek out about diet structures, and for a while, I was an online personal trainer. I enjoy movies -I'm a big movie nerd – and during my free time, you'll see me at a movie or watching movies with friends. I play almost every intramural at DBU. Even if I'm terrible at it, I enjoy playing sports with friends and the connections that brings.
What does the future hold for you?
My goal is to find a career within investments, but I'm not 100% sure what that looks like yet. I have a strong interest in real estate investment. I just want to find a career that I have the ability to learn, grow, and develop my professional expertise. Other than that, whatever doors the Lord opens. I don't have a plan set in stone, but that's all right. My goal is to make a difference and adhere to the calling that is placed on my life as a believer - to go out and never lose sight of that. I want to find a career that allows me to truly utilize my strengths and gifts for that calling and for the goal of making a difference where I'm placed.