Oil & Gas Industry - Looking Back and Looking Ahead
March 2, 2021 - While the oil and gas industry is accustomed to highs and lows, the downturn caused by the pandemic last year was historic. What now? HighGround's Oil and Gas Manager, Will Francis, is our guide as we look back at what happened in 2020 and look ahead to what 2021 might hold for the industry.
LOOKING BACK
March 2020 – U.S. oil prices significantly declined due to the price war between Russia and Saudi Arabia, severely depressed demand caused by coronavirus-related travel restrictions and business closings, and worldwide production surplus.
April 20, 2020 – U.S. oil price traded negative (-$37.63) for the May West Texas Intermediate (WIT) futures for the first time in history.
April 2020 – Severe market volatility caused a drop in the WTI monthly average oil price to $20.00 a barrel (bbl), the lowest since 1999.
May 2020 – Crude prices improved after OPEC and all oil-producing allies finalized an agreement to cut production by 20 million barrels per day, the single largest output cut in history.
The aftermath from the second quarter of 2020:
There were 45 oil company bankruptcies, the most since 2016.
To lower costs, mergers and acquisitions of oil companies were prevalent.
U.S. total rig count dropped from 796 to 351.
Reduction in drilling lowered crude production from 12.2M barrels per day to 11.1M barrels per day​.
14% of the industry's jobs were eliminated.
Exploration budgets were cut by 30-50% by many companies​.
Demand continued to be impacted negatively by coronavirus-related restrictions.
LOOKING AHEAD
WTI crude oil price is expected to remain at or above $50 per barrel for 2021.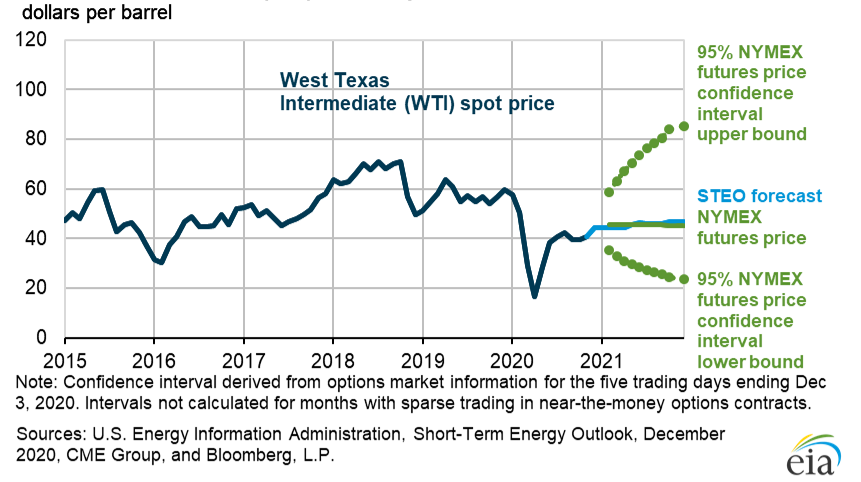 Consumption (demand) is expected to outpace production (supply) during most of 2021. If so, this will reduce the oversupply built up from prior years and provide upward pressure on the price.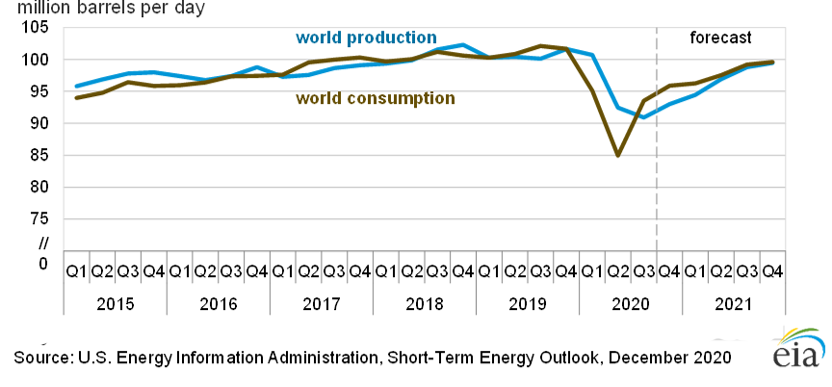 Questions to consider in 2021:
Will increased demand outpace production to further reduce the crude surplus?​
Will global demand continue to grow while the domestic industry transitions to more renewables?
What other renewable (or alternatives) fuels are there besides wind and solar?​
How will geopolitical instability continue to impact the industry?​
How will new environmental regulations impact the industry? ​
To learn more about how HighGround can manage your oil and gas assets, reach out to Will today at will.francis@highgroundadvisors.org or 214.978.3333.